PTI
Ordering information
ASQ is available through PTI by subscription
How can you make it easy for parents to complete ASQ?
Use PTI, the electronic patient interview system for pediatric practices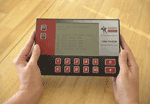 Now both ASQ-3™ and ASQ:SE are part of Patient Tools® (PTI), an electronic patient interview system that makes it easier for parents to complete automated questionnaires before their child's visit or in your office.
PTI will save you time, streamline your workflow, and make your whole ASQ process as error-proof as possible with exciting features designed to meet the specific needs of pediatric practices and health care systems:
Parents can complete ASQ questionnaires based on your schedule, prior to the visit (online from home) or in your office via a computer or tablet in kiosk mode or a handheld survey unit.
Built-in onscreen prompts and optional audio tracks help families with low literacy skills respond accurately.
Inclusion of ASQ with other pediatric tools (EPDS, M-CHAT, Vanderbilt (ADHD), PSC, CRAFFT, SCOFF, etc.) enables parents to complete all the tools needed before a visit and have the data conveniently stored in one system.
Whether collected online or in your offices, responses are securely and confidentially scored and a report generated in seconds. Results can be interfaced to your EMR.
Automatic generation of ASQ reports show aggregated data and an extended Information Summary report, which includes a "red flags" section to help you spot areas of concern and a "status over time" section that shows trends in a child's development.
Both ASQ-3 and ASQ:SE are available in English, Spanish, Somali, and Hmong.
You can tailor ASQ to your needs—enable starting and stopping of a single questionnaire, allow parents to skip items, back up, perform summary checks, and more.
ASQ is available through PTI by subscription only. Free telephone and live remote support are included with your subscription. See this quick guide with subscription and pricing information.