ELLCO K–3
Family of products
User's Guide and Tool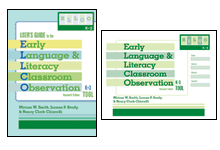 SAVE ON THE SET:
$55.00 | Order both and SAVE
View set details
– AVAILABLE SEPARATELY –
User's Guide
$32.00 View product details
Tool (package of 5)
$32.00 View product details
Are you doing all you can to boost your students' reading outcomes?
Use ELLCO K–3 to assess your school's literacy supports and practices

The Early Language and Literacy Classroom Observation (ELLCO) tool helps build better literacy programs by assessing the quality of the classroom environment and teachers' practices. With ELLCO, educators gather the essential data needed for professional development and program improvement that lead to better literacy outcomes for young children.
ELLCO K–3 is designed specifically for early elementary settings, focusing on what research identifies as key components of reading, writing, and effective instruction. ELLCO K–3 helps schools
establish a scientifically based reading program for students
support the 5 main components of reading identified by the National Reading Panel: phonics, phonemic awareness, fluency, vocabulary, and comprehension
strengthen the quality of teaching practices in positive, supportive ways
Use ELLCO Pre-K to assess literacy practices and supports in preschool settings and CHELLO to rate the early literacy environment in home-based child care settings.
Step 1
Examine 19 items in 5 critical categories to get a full picture of classroom literacy supports. Specific descriptors for each rating help you choose the most accurate rating
Step 2
Supplement your observation with the brief Teacher Interview, which gives you 7 critical questions to ask K–3 educators
Step 3
Rate each ELLCO item and tally up the totals using the easy 1-page score form
Step 4
Use scores to track progress over time and identify particular areas of strengths and weaknesses to target professional development areas
At a glance
What is it?
Training available

Get training on Using the Early Language and Literacy Classroom Observation (ELLCO) Toolkit. Presented by Brookes On Location.
An observational tool that examines the quality of language and literacy practices and materials in K–3 classrooms.
Which areas does it examine?
Classroom structure, curriculum, language environment, books and reading, and print and writing.
Who completes it?
Researchers, supervisors, program directors, principals, administrators and/or teachers.
What are its components?
The tool (classroom observation and teacher interview) and user's guide.
How long does it take to complete?
Approximately 1–1½ hours.
Is it reliable?
Yes. The ELLCO Research Edition was used for research purposes in more than 150 preschool classrooms; the reliability was 90% or better.