NSS™
Family of products
NSS Set, K–1, Research Edition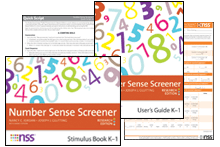 $89.95 View product details
– AVAILABLE SEPARATELY –
Record Sheets (package of 25)
$30.00 View product details
Number Sense Interventions
$34.95 View product details
Are you catching math struggles early enough?
Screen kids with NSS™ now—before they fall behind—with this quick, reliable K–1 screener.

Number sense is a key indicator of future math success—and now there's a quick, reliable, and affordable way to screen early numerical competencies in Grades K–1 and identify students at risk for later math struggles. A research-based tool that requires no extra training, Number Sense Screener™ (NSS™) K–1 gives you the critical information you need to
catch at-risk students early
predict mathematic achievement through at least third grade
start planning effective, targeted interventions
monitor progress and identify where students need more support
meet national and state standards, including Common Core State Standards in Kindergarten and NCTM Standards and Focal Points
Step 1
Using the visual prompts in the Stimulus Book, show the child the picture.
Step 2
Follow the instructions in the handy Quick Script.
Step 3
Record the child's responses on the Record Sheet.
Step 4
Calculate the child's scores on the Record Sheet and implement interventions in areas of need.
Step 5
Re-screen to monitor progress and make sure every student is on the path to math success!
At a glance
What is it?
A quick number sense screening tool that accurately identifies children at risk for mathematics difficulties.
When is it done?
At least three times: in the fall of kindergarten, the spring of kindergarten, and the fall of first grade.
Which areas are screened?
Counting skills, number recognition, number comparisons, nonverbal calculation, story problems, and number combinations.
How many items are there?
There are 29 items. Here's a sample: "Kisha has 6 pennies. Peter takes away 4 of her pennies. How many pennies does Kisha have now?"
Who completes and scores it?
NSS can be easily completed and scored by a teacher, a learning specialist, or a school psychologist.
How long does it take?
About 15 minutes per child, and about 5 minutes to score.
Which scores are provided?
6 subarea raw scores, total raw score, total standard score, total percentile rank.
What do the scores tell us?
Subarea raw scores can be used to design appropriate interventions for children who struggle in a specific area. The total raw score, together with the percentile rank, can be used for overall screening and progress monitoring.
Is the tool valid and reliable?
Yes. NSS has internal consistency of .85 and predictive validity of .70 (end of third grade math achievement).