PreSET™
Family of products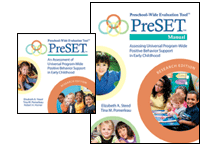 Tool on CD-ROM
$99.95 View product details
Manual
$50.00 View product details
Are your program's PBIS efforts working?
Pinpoint which positive behavior interventions are effective with PreSET

Based on the widely used and highly regarded School-wide Evaluation Tool (SET), the Preschool-Wide Evaluation Tool™ (PreSET™) assesses program-wide PBIS in all types of early childhood settings. Conducted twice a year by an unbiased outside observer—such as a behavior consultant, inclusion coordinator, or school psychologist—PreSET takes an accurate snapshot of a program's PBIS through a review of program documents, classroom observations, and interviews with the administrator, teachers, and a few children from each classroom.
Use PreSET to
assess universal features of effective PBIS across 8 key categories, including behavioral expectations, family involvement, and program support
better support critical social-emotional skills children need for kindergarten
measure progress toward goals and see at a glance how your program is progressing
target quality improvement efforts and develop a plan to strengthen behavior interventions
determine professional development needs for teachers
Read an in-depth Q&A with the developers about how programs can assess program-wide PBIS in early childhood settings.
Step 1
Interview the program administrator using the PreSET Administrator Interview Form found on the PreSET CD-ROM.
Step 2
Conduct interviews with the lead teacher, other staff, and a sample of children in each classroom of the program, documenting the results on the PreSET Classroom Interview and Observation Form.
Step 3
After this information is collected in each classroom, summarize classroom scores on the PreSET Classroom Summary Form.
Step 4
Transfer scores from the PreSET Classroom Summary Form and PreSET Administrator Interview Form to the PreSET Scoring Guide to calculate the program's implementation of PW-PBIS by feature for a total PreSET score.
Step 5
Following the guidance in the PreSET Manual, interpret and share the results using the Feedback Form.
Step 6
Have the program use the Action Plan to target quality improvement efforts.
Step 7
Conduct a re-assessment for the program to monitor progress, demonstrate improvements, and work toward better social-emotional development for all young children!
At a glance
Training available

Get training on Using PreSET to Assess Program-Wide Positive Behavior Interventions and Support. Presented by Brookes On Location.
What does it assess?
Program-wide positive behavior intervention and support (PW-PBIS) implementation at the universal tier.
What are the categories?
8 primary universal features of PW-PBIS:
expectations defined
behavioral expectations taught
response to appropriate and challenging behavior
organized and predictable environment
monitoring and decision making
family involvement
management
program support
Where is it conducted?
In all types of early childhood settings serving children 3–5 years of age.
Who conducts it?
An unbiased outside observer (i.e., behavior consultant, inclusion coordinator, school psychologist).
When is it conducted?
For programs new to PBIS: Twice a year, in the fall and spring of the academic year. For programs already implementing PBIS: Once a year, at the end of the academic year.
What are the components?
interview with program administrator
interview with classroom teacher and sample children in each classroom
observation of each classroom
How many items are there?
38 items, organized into 8 categories
Sample item:
Does the program have a system for acknowledging children's appropriate behavior (e.g., special spotlight for raffle tickets for a child during circle, children who clean up after discovery time?) (0 = no; 1 = once a day or system varies in each classroom; 2 = system is used more than once a day).
How long does it take to complete?
Approximately 1–2 hours to evaluate the whole program, depending on program size
How long does it take to score?
15–30 minutes
What sample was used for standardization?
138 early childhood classrooms
What is PreSET's reliability?
Inter-rater reliability: .95
What is PreSET's sensitivity to change?
Sensitivity to change demonstrated through a year-long study of 29 classrooms: Paired t-test results indicated an increase in all classrooms' PreSET scores from fall to spring; t = 10.49 (df = 28). p < .000.
What is PreSET's internal consistency?
.91 overall, across the 8 subscales.
How long has PreSET been in development?
Since 2006