SAPR-PBIS™
Family of products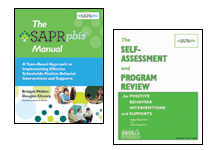 Manual
$40.00 View product details
Tool (package of 10)
$45.00 View product details
Is your school implementing effective PBIS practices?
Use the SAPR-PBIS™ self-assessment to pinpoint what is working

Schools can evaluate for themselves how effective their positive behavior program is working with the Self-Assessment and Program Review for Positive Behavior Interventions and Supports (SAPR-PBIS™).
SAPR-PBIS is the most efficient, comprehensive way to compare your current PBIS efforts with evidence-based practices and benchmarks. Six to 10 team members from your school fill out individual self-assessments, rating themselves on key building blocks of successful PBIS. Then your whole team comes together to discuss results, set clear goals for improvement, and assess progress.
SAPR-PBIS has been proven in pilot studies to improve students' social outcomes and staff satisfaction.
Step 1
Select members of the schoolwide PBIS leadership team and have them complete the Individual Form.
Step 2
Have the team members bring their completed forms to the Self-Assessment Team Meeting. With one member acting as facilitator, transfer individual scores to the Team Meeting Form.
Step 3
As a team, discuss the results of each member's completed Individual Form to develop a consensus about how your school is functioning in the 10 practices listed. (The SAPR-PBIS Manual provides guidance for discussion when there is a significant discrepancy between team members' scores.)
Step 4
Review the results of the team assessment to identify up to 3 evidence-based practices to focus on improving during the school year. Use the indicators listed with each practice to help you develop specific, measurable objectives.
Step 5
Share your action plan with school faculty. Throughout the year, the leadership team will revisit the objectives to determine progress being made.
At a glance
What is it?
A self-assessment process for school leadership teams to evaluate their implementation of schoolwide positive behavior interventions and supports (SWPBIS)
How often is it conducted?
2 times per year
Which areas does it examine?
10 practices that represent the building blocks of SWPBIS:
policies and procedures
prevention and screening
staff development
behavioral expectations
response to discipline referrals
academic and social supports provided
functional behavior assessment as needed
data collected and analyzed; families as partners
comprehensive plans for intensive needs
Who completes it?
Professionals (administrators, school psychologists, behavior specialists, classroom teachers)
Number of items?
Individual Form: 62 items on 10 scales
Team Meeting Form: 10 scales and 1 Action Plan planning sheet
Sample item
Rate on a scale of 1–5 the extent to which the following indicator is in place: The behavioral expectations and schoolwide program are regularly communicated to families
How long does it take to complete?
30 minutes for the Individual Form (completed independently); 60–90 minutes for the Team Meeting Form (completed over the course of a meeting); and about 5 minutes to score (during the team meeting)
What do the scores give you?
Overall ratings in 10 key practice areas help identify 3 or more priorities for improvement
What was the standardization sample?
23 schools, with 150 individual staff members
Is it reliable and valid?
The total internal reliability was 96%, each scale was 76% or greater (range of 76%–95%). Content validity was completed through literature review and expert panel review; construct validity was established by correlating scores with the Schoolwide Evaluation Tool (SET)