Using PreSET™ to Assess Program-Wide Positive Behavior Interventions and Support
Home
»
Training
»
Seminars
»
Using PreSET™ to Assess Program-Wide Positive Behavior Interventions and Support
About the seminar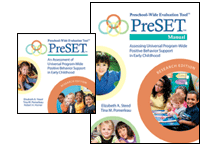 Speakers: Elizabeth A. Steed, Ph.D.; Tina Pomerleau; & Deborah Carter, Ph.D., BCBA-D
Required materials: Preschool-Wide Evaluation Tool™ (PreSET™) manual and tool
Seminar length: 1 full day or 2 half days (6-hour presentation)
Number of participants: up to 20
Who will benefit from this seminar: Individuals who have outside and collaborative relationships with early childhood centers, such as inclusion coordinators, preschool coaches, mental health specialists, and behavior consultants
Speaker Fees:
1 full day: $2100
2 half-days: $2300
(Please add an additional fee of $750.00 if BOL is required to review or complete documentation (e.g., terms and conditions, agreements, contracts, purchase order, vendor registration form, addendum, etc.) in addition to or in lieu of BOL's standard training agreement.)
Prices may vary by location.

The PreSET training is intended to prepare individuals to accurately use and score PreSET. The first half of the training covers the background of PreSET, its organization, and how scoring is completed. The second half of the training provides participants with opportunities to practice scoring with case studies and to test their reliability.
There are no prerequisites for the training. The training consists of review of PreSET materials (forms and manual), guided by a Power Point presentation, small group activities, and discussions. There are also two case studies that are reviewed during PreSET training.
The first case study is completed collaboratively between trainers and training participants and includes the case study provided in the PreSET manual. Participants check their work with scored forms that are provided in the PreSET manual. The second case study is provided to participants of PreSET trainings in order to provide an opportunity to more genuinely complete and score PreSET.
This case study includes background information about the preschool program, the transcript of interviews with the preschool director, teachers, and children, as well as permanent products and other classroom information for rooms in the preschool program being evaluated. Participants will use this information to score PreSET on their own. They will then check their work with the PreSET trainer and determine their reliability.
Completion of PreSET training is contingent upon acquiring adequate reliability at the conclusion of the PreSET training as well as completing one actual PreSET administration in an early childhood program within 3 weeks of the PreSET training. Once participants have provided the PreSET trainer with evidence of their successful PreSET administration, they will receive a certificate of completion of PreSET training.
Though training is not required, it is strongly suggested with purchase of PreSET. Participants in the trainings need to have the PreSET materials.
One copy of the manual and CD-ROM of forms (although these will need to be printed out as well) per participant is sufficient. We will also have training materials (handouts, case studies) for each participant.
Please note: Professors or researchers who are using PreSET for research purposes should also participate in training on administering PreSET.
BONUS!
Participants who successfully complete this training may use PreSET independently and serve as reliability partners for other PreSET users.
Have another idea? Tell us about it, and we'll do our best to customize this seminar to your needs!